How to Hire Professionals for Tree Removal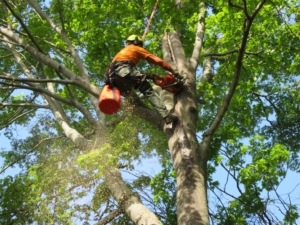 For tree removal, hiring a tree service is often the best option. You will want to hire a top tree removal service to get the job done without any damage.
Living in Charlotte, where trees grow in abundance, can sometimes cause trouble. It is not uncommon to find a tree limb encroaching into someone's living room through the window of shattered glass. This is one of the reasons why it is necessary to trim trees, but sometimes you want more sunlight on the garden and need to get some trees removed.
Hiring a Charlotte tree service company is best if you want to get trees removed from your property, but some people decide to take matters into their own hands. While tree trimming or removal may look like an easy job, be aware that it is often a task for professionals. Tree removal is a labor intensive job and serious injuries can occur like cutting yourself with an ax or chainsaw or falling from the tree because you don't have the proper safety equipment. This is why it is always recommend that tree trimming or removal is a project that needs to be carefully managed. No matter how skilled you think you are at gardening, tree removal is a whole different game. You should always go for the expertise of a professional tree services.
The problem can be, hiring a reliable and experienced tree service. Here we have some tips for you which can make the selection easy for you.
What to consider
When hiring any Charlotte tree service, make it a point to confirm that the company you choose has adequate insurance. Also, you should ask for workman's compensation insurance and all certificates of liability. Often people tend to hire an all-purpose handyman for tree removal which is a bad idea. Tasks like tree removal require a high level of responsibility and expertise.
Before you start with the tree trimming or removal process, ask the tree service company to provide you with a written estimate for the job and precisely mention in the work contract what the tree removal process entails and how much you are entitled to pay for the whole job. Stay away from services that ask for payment in advance or do not provide a free estimate of the cost.
When you hire a tree service company ascertain that they are fully prepared to handle any mishaps that can occur. For instance, if the tree being removed is located near telephone lines or electrical wires that go to the house, make sure the tree service can handle the situations.
References and Word of Mouth
It is advised that you ask your friends, family and neighbors for a recommended tree service. Certainly someone must have hired a tree service company for tree removal or trimming previously. Word of mouth is one of the best forms of marketing and often you will hear about the troublesome details that a tree service won't tell you otherwise. Also, any worthwhile tree service will be willing to share references who were satisfied with their work.
Do not be afraid of asking your tree service for references and don't be shy to call for verification.