Are you in need of tree services in Charlotte, NC or one of the communities in the surrounding metro region?
At Marc's Tree Service, we provide top quality tree services to clients across the Charlotte region!
We offer a comprehensive range of tree services, including:
Tree Removal
Do you have a dead, dying or diseased tree that requires removal? Would you like to cut down some trees to make way for new construction or another project? Are you worried about tree damage to your property?
If you fail to remove a damaged, dead or diseased tree or limb, you risk serious property damage when nature takes its course, bringing down the tree naturally….and you may not like where it lands!
Don't risk property damage or injury by trying to take down a tree on your own! Trust Marc's Tree Service and our expert team for all your Charlotte area tree removal needs.
Tree Trimming
Do you have a large limb that's precariously dangling over your home? Are you tired of roofing, gutter, attic and other property damage from raccoons and squirrels jumping from that over-hanging limb and onto your roof? Or perhaps you have a few tree limbs that are a bit too close for comfort in terms of their proximity to your utility lines.
Whatever the case, Marc's Tree Service has an experienced team of tree trimming experts who can remove limbs and branches quickly and safely.
Shrubbery and Tree Pruning Services
Keep those shrubberies and trees looking fabulous with our pruning services, available to homeowners and other property owners as needed or on a regular basis.
Regular shrubbery and tree pruning promotes healthy growth, while keeping branches clear of power lines, walkways and structures. Don't spend hours trying to tackle that tree pruning project with a handsaw. Let our experts get the job done right….and promptly!
Stump Grinding and Stump Removal
So you've managed to cut down that tree, but now, you're left with a tremendous stump that could take decades to rot away!
Marc's Tree Service has all of the best stump grinding and stump removal equipment required to chop up and eliminate that ugly stump from your property.
If you require Charlotte, NC tree services, turn to the experts at Marc's Tree Service! Whether it's the removal of a storm-damaged tree, stump removal or some pruning and trimming to keep your trees looking fabulous, our professional team is happy to assist!
Contact Marc's Tree Service today by calling 704-930-9705.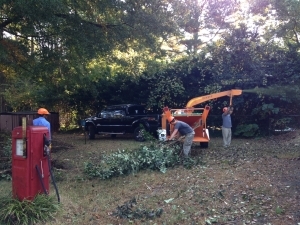 Marc's Tree Service – Charlotte, NC
4612 McKee Road
Charlotte,
NC
28270
Phone: 704-930-9705