Storm Damage Tree Removal Services in Charlotte NC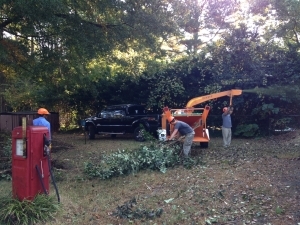 Did a recent storm cause damage to your trees? Are tree limbs from storm damage lying across your yard or outdoor living space? Is there a tree at your home that is old and needs to be removed for the fear of falling? Marc's Tree Service in Charlotte, NC will give you complete tree removal and clean-up and you will not have to perform the task by yourself.
Tree removal needs to be done properly by trained tree removal experts using the right tools to do the job. Marc's Tree Service expert tree removal includes trimming and pruning of the branches, bushes, removing the debris and final clean-up. Also, our experts make sure that if the tree stump has to be ground, it is done properly.
Marc's Tree Removal Services At Your Disposal in Charlotte NC
Improper tools or knowledge may take a lot of time and even cause additional damage to you or your property. Hiring our storm damage tree trimming/removal service will not just save your time, but also contribute in lowering the efforts to clean your home and surrounding area.
Hiring our proficient tree trimming/pruning/removal services will also ensure that the task will be carried out in the safest and best manner possible. When you hire Marc's Tree Service, you can be confident enough that your job will be completed on time and with proper safety measures.
The experts at our company will assist you with all the tree removal tasks like:
Removing Trees from Storm Damage
Removing Tree Limbs
Removal and Trimming of Dying, Dead Trees or Limbs
Stump Removal and Grinding
Tree Trimming and Pruning
Unwanted, old, ill, damaged and overgrown trees shed more limbs and leaves thus creating a mess in the area, leaving a shabby and unattractive look to your home and property. Getting a tree trimmed or removed may enhance the look of your yard. It may also prevent inhabitation of rodents and pests that start living in dry bark, stumps, limbs and fallen leaves of the trees.
Why Hire Us?
Getting an old, damaged or dying tree removed makes your yard more pleasant to look at and improves the overall value of your property. Marc's Tree Service is a great option for maintaining the growth of your trees and shrubs as trimming and pruning are essential when it comes to property maintenance. Regular maintenance will help keep healthy trees and attractive yard.
Overgrown trees can pose a threat of breaking down or falling on your home during storms or high winds. To avoid such issues, get the entire tree or branches removed by an expert.
Let Marc's Tree Service be your ultimate choice for the best of tree removal service. The experienced crew at our company have all the knowledge and skills to take down your trees in an effective and safe manner.