Tree Removal, Tree Trimming and Pruning in Charlotte NC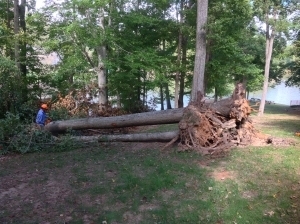 Are you sick of looking at that unsightly half-dead tree in your yard?
Is a tree interfering with your home's utility lines?
Did a recent storm leave a half-broken tree limb hanging precariously over your driveway?
Or perhaps you have a large tree that's over-hanging your roof, resulting in squirrels, raccoons and other animals damage, leaf-clogged  gutters and worries of roof damage with every wind storm?
Well, the team at Marc's Tree Service is available to assist! For more than 20 years, we've been serving Charlotte, North Carolina and the surrounding region, providing expert tree removal services to homeowners and commercial clients.
Don't venture out on a wobbly ladder, with a chainsaw and the intention of saving a few bucks. You could very well end up with property damage, injuries or worse!
You need a trustworthy, experienced tree service to get the job done safely and promptly.
The expert tree removal team at Marc's Tree Service can assist with all of your tree removal projects, including:
removing bothersome tree limbs
cutting down dead/dying trees
removing a freshly-fallen trees
and stump grinding/stump removal services.
Our team has access to the most sophisticated tools and equipment, including an industrial wood chipper. This enables us to haul away the tree remnants, so you don't find yourself left with a pile of wood that would take you years to burn through in your home fireplace!
Marc's Tree Service has an experienced tree removal crew, so we'll have the knowledge, know-how and equipment required to take down trees in a safe, effective manner that will not endanger your family, your home, business, vehicles or property.
In addition, our team of tree service professionals are adept at dealing with trees and limbs that are located near power lines and utility lines. So we can ensure the safety of you, your property and our crew.
A powerful storm can take down large limbs or entire trees. Sometimes, partially-broken limbs can pose a serious safety hazard. At Marc's Tree Service, we understand that many situations require prompt attention. Therefore, we do provide urgent emergency tree removal service for clients in the Charlotte, NC area who require prompt help following a storm.
Marc's Tree Service is fully licensed and insured, so you can turn to our team with complete peace of mind!
At Marc's Tree Service, we specialize in tree removal in the Charlotte, North Carolina area. We're happy to provide you with a complementary price estimate for your tree removal project, or other services such as stump grinding and pruning services. Call Marc's Tree Service today at 704-930-9705.

Marc's Tree Service
4612 McKee Road
Charlotte, NC 28270
Phone: 704-930-9705